September 18, 2014
Che figata! SAINT MOTEL in Vanity Fair Italia 
September 16, 2014
"My Type" is featured in the new FIFA '15 Soundtrack…goaaaaalllll  !!!
http://www.easports.com/fifa/news/2014/fifa-15-soundtrack-details
September 14, 2014
To a man who wears many hats (today's happens to be a party hat), we'd like to wish our leading man, A/J Jackson Jr., a very very happy birthday! From the rest of the gents, enjoy your special day, good sir! XOXO
(Photo - Robb Rosenfeld)
September 13, 2014
I saw the sign…
September 12, 2014
One more awesome piece on #FanAppreciationFriday #FAF.
This one from @jy0209 :) thanks! Keep em coming y'all! We love it!
September 12, 2014
It's Fan Appreciation Friday #FAF here at @saintmotel and we'd like to share this amazing drawing by @anitaatehranii with you!
It's like we all have super vibey auras :)
September 11, 2014
The "My Type" music video just hit 400,000 plays! Watch it here: bit.ly/MyTypeVideo
Any video ideas for "Cold Cold Man"?
September 10, 2014
Top of the (Lounge) Pops!
The Deli Magazine is an online music site that has music charts based on "web buzz" and "popularity".  Recently, it was pointed out to us that we are the #1 Lounge Pop band in the nation according to these charts!?
Here are the national charts based on "Indie Pop"
Pretty standard fare.  All great, massive bands.
And here's the national charts based on "Lounge Pop"
See the full Top 50 HERE
Are we Lounge Pop?  What is Lounge Pop?  Here's some info from Wikipedia on Lounge Music:
"While rock and roll was generally influenced by blues and country, lounge music was derived from jazz and other musical elements borrowed from traditions around the world. Exotica from such artists Les Baxter, Martin Denny and Arthur Lyman sold millions of records during its heyday. It combined music that was popular outside the USA, such as various Latin genres (e.g., Bossa Nova, Cha-Cha-Cha, Mambo), Polynesian, French, etc. into a relaxed,[2] palatable sound. Such music could have some instruments exaggerated (e.g., a Polynesian song might have an exotic percussion arrangement using bongos, and vocalists imitating wild animals.)"
And a little info from Wiki on Pop Music:
"As a genre, pop music is very eclectic, often borrowing elements from other styles including urban, dance,rock, Latin and country;[1] nonetheless, there are core elements which define pop. Such include generally short-to-medium length songs, written in a basic format (often the verse-chorus structure), as well as the common employment of repeated choruses, melodic tunes, and catchy hooks.[1]"
So maybe?  Who knows, who cares!  It's fun to see anyways.  Thanks for pointing this out to us!
photo by Robb Rosenfeld
September 9, 2014
September 8, 2014
Cool to hear "My Type" in this Korean Hyundai commercial! Though, it could use more flashing graphics 
September 5, 2014
Happy to be adding London Calling Festival in AMSTERDAM to our fall tour schedule!

With Phantogram, Wild Child, and more. Annnnd on Halloween no less (10/31)!
September 4, 2014
So cool to see the new EP has over 1.7 MILLION plays and TWO songs are on the Viral 50 Playlist right now on Spotify!!!
Thank you all for tuning in <3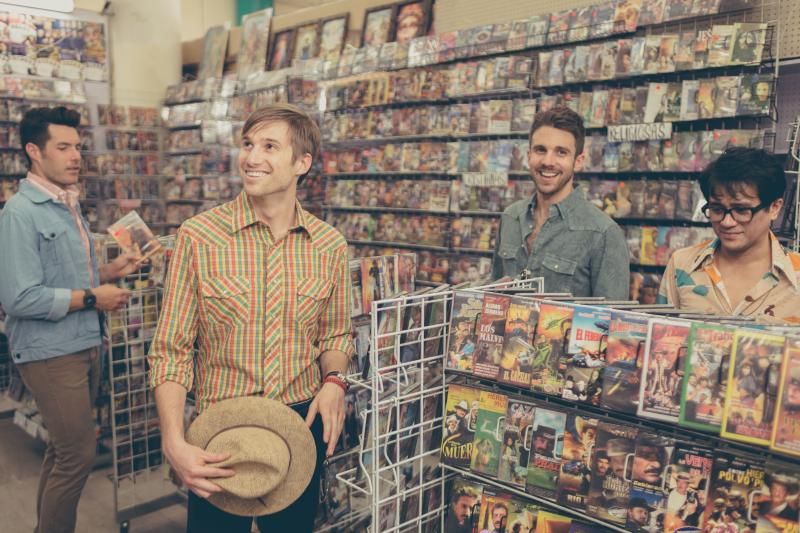 photo by Robb Rosenfeld
(Source: Spotify)
September 3, 2014
Kind words from Noisey, about the new EP:

"Seriously, the word "ebullient" is not the kind of adjective you can throw around lightly, but it's the only way to fully describe this EP. They definitely earned that Saint status…" 

http://noisey.vice.com/en_uk/blog/know-your-saints-saint-raymond-saint-pepsi-and-saint-motel
September 2, 2014
Amazing artwork by Callum Scott-Dyson!
New EP Out Now: bitly.com/MyTypeEP
September 2, 2014
Listen to our NEW SONG "Midnight Movies" featuring The Damselles - Track #4 on our new EP!

https://soundcloud.com/saintmotel/sets/my-type-ep-1